Heavy Duty Engine Degreaser
7CF® Heavy Duty Engine Degreaser is specially formulated to remove grease and oil from engines for cooler more efficient running.
WHERE TO BUY
HEAVY DUTY ENGINE DEGREASER FEATURES & BENEFITS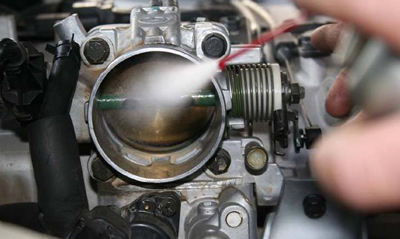 HEAVY DUTY ENGINE DEGREASER APPLICATIONS

DIRECTIONS
Read entire label before using this product.
1

Engine must be off and cool.

2

Care must be taken with all underhood wiring and electronic sensors or components. Cover any open carburetor or intake system openings. Cover exposed electrical and electronic components.

3

Shake well and apply generously to dry engine.

4

Make sure to cover all dirty and greasy surface areas with 7CF engine degreaser. Wipe overspray from exterior body surfaces with a wet cloth quickly to avoid de waxing or streaking paint.

5

Allow engine degreaser to soak for 10 to 15 minutes. Brush unusually heavy deposits to break up grease and dirt.

6

Rinse all areas thoroughly with a wide spray pattern from top down within 10-15 minute time frame.

7

When complete, remove added coverings and replace any removed parts. Start engine and idle around 15 minutes for completely drying.


PHYSICAL & CHEMICAL PROPERTIES
Form

Aerosol

Flammable Limits

No data available

Odor
Characteristic
Density at 20 C (68 F)

0.78-0.95g/cm3

Odor Threshold
No data available

Partition Coefficient;

n-octanol/water

Not applicable

pH
6.0-8.0
Relative Density
No data available
Melting/Freezing Point
No data available
Solubility

soluble in water

Boiling Point/Range

>200°C
Solvent content

< 65.0 %

Flash Point
>45°C
Viscosity
No data available
PACKAGING SPECIFICATIONS
| | | |
| --- | --- | --- |
| ITEM NO. | Container size | Optional sizes |
| A-C-002 | 15oz(425g) | 10oz(283g),13oz(370g), 14oz(396g), 16oz(453g) |
GET IN TOUCH WITH 7CF TO LEARN MORE PRODUCT LINES