Shenzhen Sunrise New Energy Co.,Ltd. The 134th Canton Fair has achieved great success
The first phase of the 134th Canton Fair was held from October 15th to 19th, showcasing 19 exhibition areas in 5 major sectors: electronic appliances, industrial manufacturing, vehicles and motorcycles, lighting and electrical, and hardware tools. There were a total of 10,611 offline exhibitors, including 210 import exhibitors from 28 countries and regions. By October 19th, there were over 100,000 offline visitors from more than 210 countries and regions worldwide, a significant increase compared to the same period of the 133rd fair. Among them, nearly 70,000 purchasers came from countries participating in the "Belt and Road" initiative, representing a growth of 65.2% compared to the same period in the 133rd fair. The Canton Fair has achieved remarkable results in promoting smooth trade among "Belt and Road" countries.
To accelerate the development of international market channels, Sunrise New Energy has received strong support from the Canton Fair Committee and the Shenzhen Trade Delegation in participating in the hardware tools, auto parts, and new energy and chemical industry exhibition areas of this session. Against the backdrop of the national strategy of vigorously supporting brand globalization, we have been granted opportunities to showcase our products in multiple exhibition areas, which is both a recognition and expectation of Sunrise New Energy's efforts in cultivating overseas markets in the past.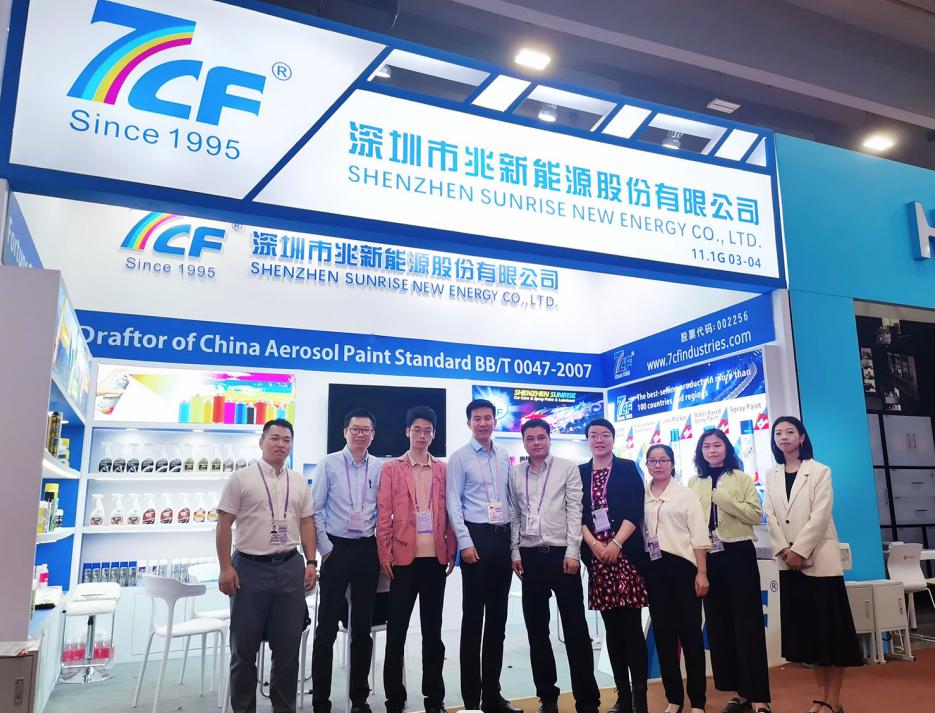 Service is king, product is first
Simultaneously appearing in the three major exhibition areas of the Canton Fair, such a grand international stage, is not only a testament to the trust the Canton Fair has in Sunrise New Energy but also an opportunity for us to accelerate channel expansion. We are hastening product upgrades and expanding product categories, adhering to the strategic direction of "service is king, product is first." Through face-to-face interactions in offline settings, we aim to bring Sunrise New Energy closer to both new and existing customers.
Creating hot-selling products to ignite the popularity of the exhibition area
In the hardware exhibition area of this exhibition, our company focused on showcasing a newly upgraded system of spray paint products. Among them, there are spray paint products that comply with the EU REACH regulations, with SVHC testing for 235+1+11 substances, gasoline-resistant spray paint, and new environmentally friendly water-based spray paint. These new products have received numerous on-site purchase intentions from customers.
In addition, our company exhibited a complete range of water-based spray bottle car cleaning products, new types of disinfectants and deodorizers for the interior of cars, and brake disc care products in the automotive accessories exhibition area, becoming the star products sought after by foreign buyers during on-site negotiations.
As a newcomer in the new energy, new materials, and chemical industry exhibition area, Sunrise New Energy also attaches great importance to the development and expansion of the chemical channel market. The showcased PU foam and Silicone Sealant have paved the way as flagship products, and new products like road marking paint and new environmentally friendly water-based spray paint are highly favored by customers.
A promising start to the exhibition, looking towards the future after the event
During the few days of short-lived gathering, there is not only the joy of reuniting with old friends but also the wonderful resonance of meeting new friends. As a long-time friend of the Canton Fair for over a decade, Sunrise New Energy remains committed to working hand in hand with all our new and loyal customers to cultivate every overseas market. Every appearance of an old friend at the Sunrise New Energy booth allows us to achieve a promising start to the exhibition. We are also willing to join hands and look towards the future after the event, contributing our full support to the development of each customer in the days to come.