Since last Thursday, the domestic TDI market has seen a rapid rebound in prices: as of April 13, the TDI quotation in the East China market was 18,400-19,000 yuan/ton, a week-on-week increase of more than 1,000 yuan/ton.
Figure 1 Average TDI Market Price in East China in 2023 (Unit: yuan/ton)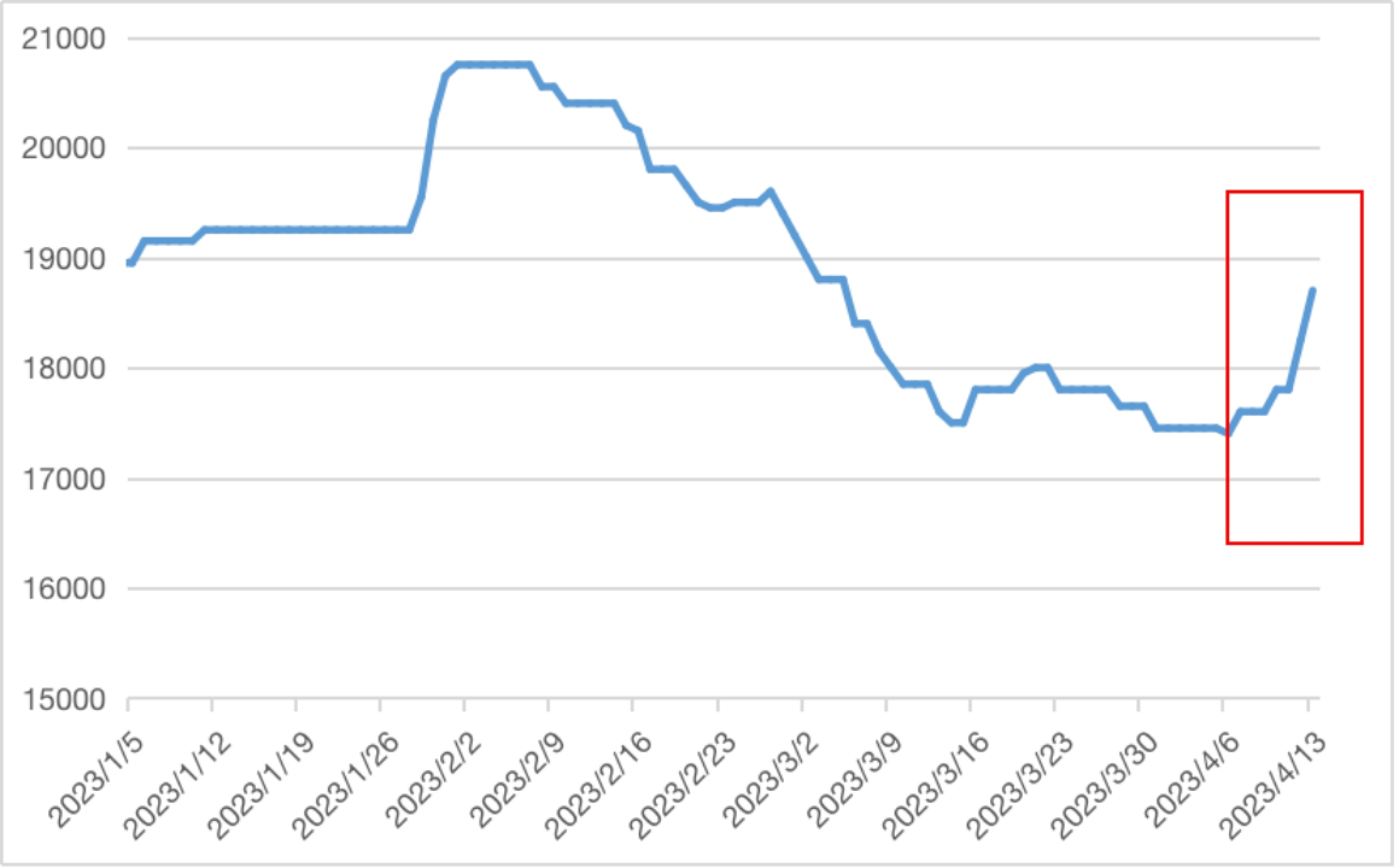 At the beginning of the 2023 New Year, although the domestic TDI market remained strong, with the arrival of the Lunar New Year, the industry gradually went on holiday, and market trading was generally light, with consolidation being the main trend. After the Spring Festival, the TDI market jumped at the opening due to not only the delay of the Gansu Yinguang to restart, but also the continuous reduction of the original production capacity utilization rate: the Fujian plant with an annual production capacity of 100,000 tons announced its permanent closure from February 1, and KOS and Xinjiang Jili also had obvious reductions in load due to equipment issues, and other plants did not increase their offerings to the market. As a result, the TDI spot market remains relatively tight, with middlemen raising their quotes, and market prices quickly climbing to quarterly highs. However, due to lower-than-expected downstream demand, the high market prices were difficult to sustain, and under shipping pressure, the market entered a long period of downturn. Despite continuous support from the factory market policy and the overall low utilization rate of the factory, weak downstream demand continued to drag down the market, resulting in repeated price declines.
Entering April, the 150,000-ton Jiangsu Jili device entered maintenance, while Gansu Yinguang has still not restarted. Previously, due to market expectations that the prices will continue to decline after the release of new production capacity in Gansu Yinguang and Fujian Wanhua, it was generally cautious and watchful. However, according to the latest market news, in April, whether Gansu Yinguang's products can be put into the market is still uncertain, and the spot market is becoming increasingly tight. Moreover, after the shutdown of European BASF's TDI device, Asia's TDI supply, led by South Korean BASF, has provided a large amount of export support. Starting from April 15, the TDI device of Hanwha Company in Korea will also enter maintenance, and South Korean TDI export supply is also trending towards tightness. This has provided more opportunities for Chinese TDI manufacturers to continue to increase their overseas market supply, reduce domestic shipping pressure, and provide indirect support for the rapid rebound of this round of TDI prices.