On March 9th, Maersk announced the integration of two emerging markets, West and Central Asia and Africa, to form a new IMEA consolidation region, in order to strengthen its integrator strategy and serve customers better. This new region includes core geographic locations in the Indian subcontinent, the Middle East, and Africa, including important markets such as India, Pakistan, the United Arab Emirates, Saudi Arabia, South Africa, Kenya, Ivory Coast, Cameroon, Nigeria, Senegal, and Ghana.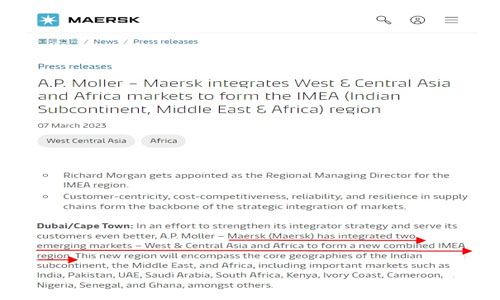 The IMEA region has a superior geographical location and a natural advantage in creating maritime and air transport hubs, which will connect global manufacturing and consumer markets. Through this approach, customers' supply chains will have more access and convenience, while creating higher efficiency in expanding their range and coverage.
Customers will continue to collaborate with the same team that has supported them thus far, and Maersk's products and solutions will remain unchanged unless otherwise notified.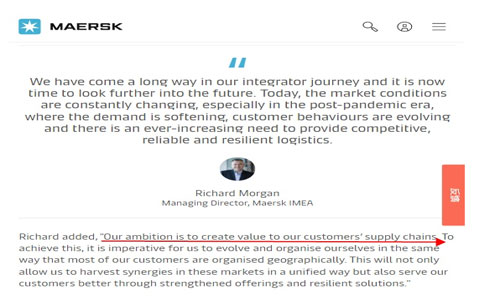 Richard Morgan, Managing Director of Maersk IMEA, said, "We have come a long way in the integration process, and now it is time to look to the future. Today, the market is constantly changing, especially in the post-pandemic era, with weak demand and evolving customer behavior, increasing the demand for competitive, reliable, and flexible logistics."
He added, "Our goal is to create value for customers' supply chains. In order to achieve this goal, we must develop and organize ourselves in a way that most customers are organized geographically. This not only allows us to harvest synergies in a unified manner in these markets, but also better serve our customers through enhanced products and flexible solutions."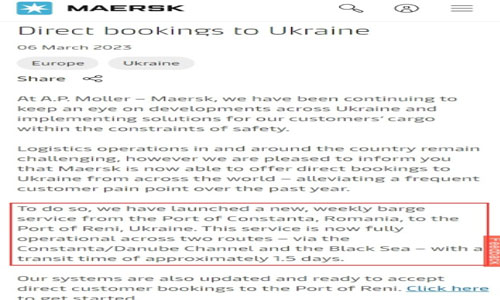 It is worth mentioning that Maersk recently announced that it can now provide direct booking services from anywhere in the world to Ukraine. At the same time, the company removed the Chinese Ningbo Port from its ACE rotation service.
Specifically, Maersk has begun a weekly barge service from Romania's Constantza Port to Ukraine's Reni Port. The service is now fully operational on the two routes of Constantza/Danube Strait and the Black Sea, with a transit time of about 1.5 days.
Maersk's system has been updated and is ready to accept direct customer bookings for the Reni Port. Bookings will depend on operational capability and submission of legal documents, including acceptance of Ukraine's terms of service due to the continued risks in the region.