Water Based Spray Paint
7CF® Water-Based Spray Paint is formulated with water-based resins, low odor, low VOC content, more eco-friendly, fast dry, pleasant and easy to use. And it can be used inside a house, in enclosed spaces or places that have poor ventilation. Excellent adhesion and coverage power.
WHERE TO BUY
Normal Colour - 4 MATT BLACK
Normal Colour - 14 JIALING RED
Normal Colour - 15 SKY BLUE
Normal Colour - 25 - MEDIUM YELLOW
Normal Colour - 40 WHITE
Normal Colour - 101 JADE GREEN
For more colors, please download the 7CF color card, welcome to customize the colors you need.
TDS & SDS
WATER BASED SPRAY PAINT FEATURES & BENEFITS
Low odor.

Fast drying.

Simple construction operation.

Good spray atomization.

High spray rate.

Excellent covering power.

Excellent decorative effect.

Superior adhesion and durability.

Soluble in water during the first minutes of drying. (10')

Resistant to exterior and outdoor use (rain, washing, etc) once the paint has dried.

Totally lead and heavy metals free.

Suitable for painting expanded polystyrene.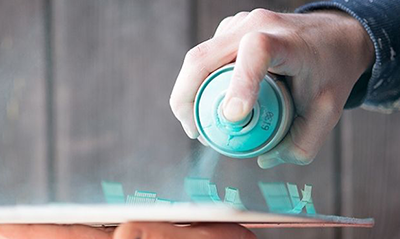 WATER BASED SPRAY PAINT APPLICATIONS

Widely used for all interior/exterior applications, for surface finishing of iron & steel, plastics, metals, surface-treated wood, glass, and other substrates.

Household items: shelf, bench, chair, table, vase, refrigerator, fan, bicycle, helmet, motor, stationery holder, wicker chair, petrified plants, DIY, Decoration.

Agricultural equipment: garden tools, fence, etc.
DIRECTION
Read entire label before using this product.
1

Thoroughly remove dirt, grease, oil and water on the surface to be painted.




2

Shake can vigorously for 30 seconds after the mixing ball begins to rattle until the paint is fully mixed and uniform.

3

Hold can upright 15-25cm from surface and use your index finger to press down the nozzle to spray in a steady back and forth motion.

4

Apply in thin multiple layers(generally 2-3 layers), the interval time of each layer shall be subject to the surface dryness of the paint film.




5

Application is not recommended when humidity is higher than 85% or temperature is lower than 5℃.




6

If the spray is not finished at one time, turn the bottle upside down and press down the nozzle for 3 seconds to clean out the valve and prevent plugging.





PHYSICAL & CHEMICAL PROPERTIES
| | |
| --- | --- |
| Item | Standard |
| Appearance | Smooth, NO particle |
| Drying condition | 0~30℃/≤80%HR |
| Recommended Thickness | 15~25μm |
| Volume Solid | ≥20% |
| Specific Gravity | 1.1-1.2 |
| Adhesion | ≥2-grade |
| Hardness | HB |
| Gloss | Not applicable |
| Flexibility | ≤2mm |
| Spraying rate | ≥90% |
PACKAGING SPECIFICATIONS
| | | |
| --- | --- | --- |
| ITEM NO. | Container size | Optional sizes |
| A-S-011 | 8oz(226g) | 9oz(255g),10oz(283g) |
GET IN TOUCH WITH 7CF TO LEARN MORE PRODUCT LINES